Profession
Textile origami designer
Name
Hannah Ashwell
Age
35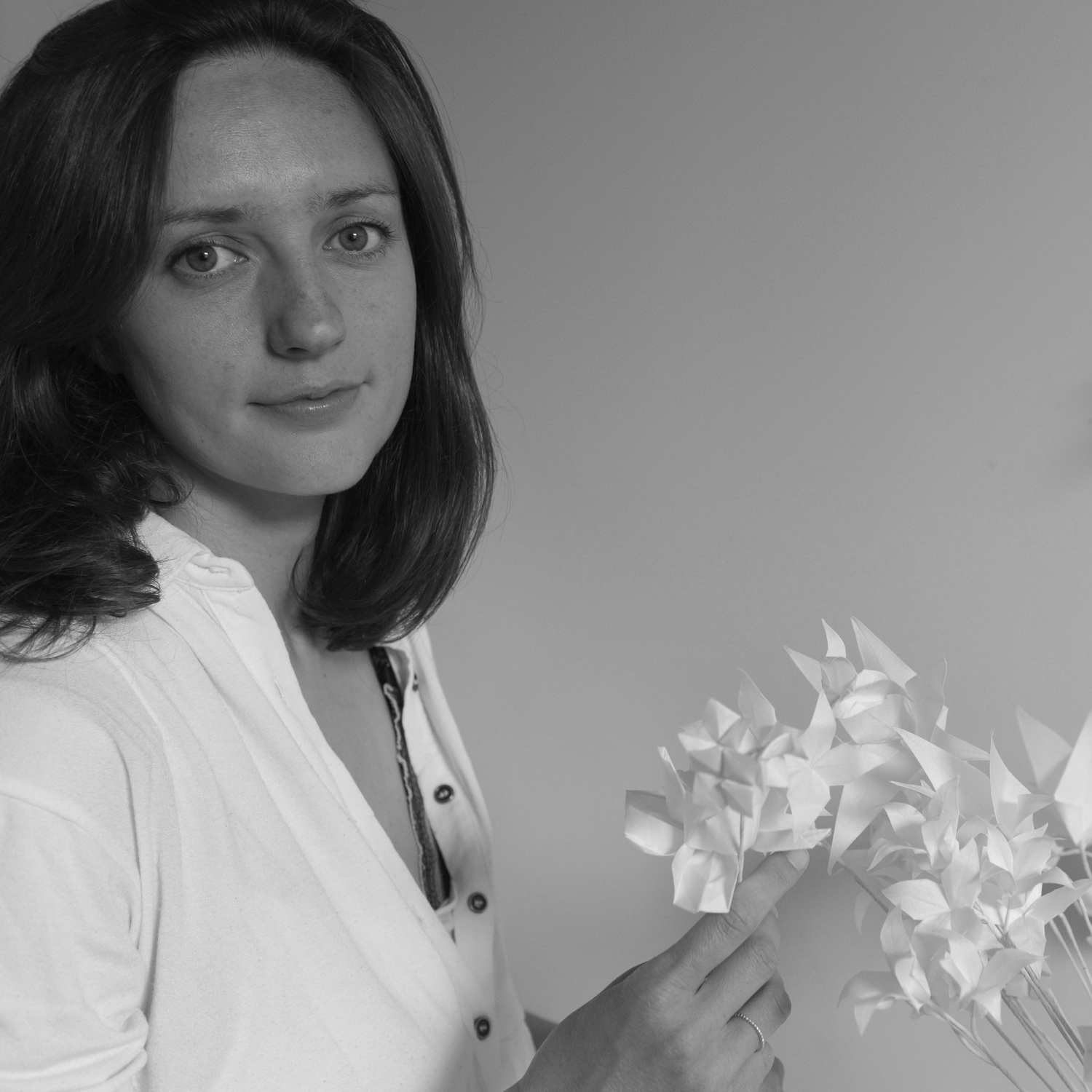 Where did you grow up?
My childhood was spent in Newport on Tay, easy downhill cycling into Dundee where my father had a landscape architecture practice and my mother worked as a printmaker. Having artistic and self employed parents meant I was encouraged to find creative solutions and think imaginatively. Most importantly I learnt that I needed to create my own career and perfect job, and that working for yourself was both hard and achievable.
School daze – were you a 'could do better' case or a 'swot'? Schooling is formative, how formative was yours?
I loved my local primary school, it had so much outdoor space to run and play and routes home from school were along nature trails. I thrived on doing well and pleasing the teacher. I was probably a bit of a try hard and got disappointed if I didn't do well at something straight away. At high school suddenly there were a lot more kids and a lot who were better than me, if anything it made me work harder. In my final years I took Maths and Arts subjects and loved the freedom we were given to explore the subjects for ourselves. It was a great precursor for university although I wish someone had told me what engineering was! Instead I studied History or Art and Architecture at Edinburgh University. I joked that I combined my parents professions but in theory rather than practice.
What do you currently do and how did you get there? Was it/is it your dream job? At what point did you decide/discover that this was what you wanted to do in life or not want to do as the case may be?
After University I worked for a few galleries but felt the need to create and use my hands, something I hadn't really done since school. A childhood dream had been to design and make costumes so I did corsetry and pattern cutting courses in the evening and worked in a textile store by day. It was whilst working there that I re-discovered another project from childhood. The clean lines, geometry and meditative folding techniques of origami had appealed to me ever since my mother showed me some simple shapes as a small child. However I had always wanted to find a way to make the origami models more permanent and useful. Using the materials in front of me, remnants of silks and cottons, I experimented until I found a method that captured the essence of the paper art form that I loved. The creatives that I met whilst working at the fabric store also encouraged me to pursue it as a business and in 2008 I set up bY Mi. It has been almost 10 years in its evolution and I feel now that I have found the path I want to take my craft. During this time I have sometimes worked full time but most often part time, I have made tiny pieces and gigantic ones and most importantly learnt and developed the techniques needed to make the origami truly adaptable. I always knew that I would need to carve out my own job and I just hope that this will enable me to continue being creative and to support my family.
Give us the run down on what your working day entails. What is a typical day/week, when you start, finish etc?
I try to cram most of my work into two days a week when childcare gives me the freedom and time to fully engage in whatever project I am working on. Mainly I work from my home studio but I also hot-desk at a local community coworking space in order to have person to person interaction and be involved in the wider creative world.
What you working on now?
When I first started the business 9 years ago I was making small gifts and accessories to sell to shops and at craft fairs however I was increasingly being commissioned to make wedding flowers and props for merchandising and publishing. The change in direction has meant I have spent a lot of time re-examining my business aims and goals as well as building a portfolio to attract the work I most enjoy doing; bespoke projects where I can explore creative solutions and produce beautiful work.
What are your future plans?
My vision for the future is wide open, I can't wait see what opportunities I will find. In the short term I want to explore scale in the flowers I create as well as experiment with more abstract, geometric forms and repeated patterns.
Do you need qualifications to do what you do? If not how did you train?
I have no formal arts or design training but have grown up with a thirst to learn, a love of textiles and an awareness of space and form. Play has been my friend from the beginning, simply picking up the fabric and manipulating it in every way I could imagine until I was able to produce the effects I envisioned. Even today when I need to create a new form, object or piece I start with paper to work out the folds before using the textiles to create the finished design, often with some re-design in between.
Other jobs prior to this one?
Since graduating and alongside bY Mi I have had numerous jobs, mostly to coincide with my other interests, food, craft, theatre and art. They have given me insights and experience of running an SME, customer service, project and event management and retail. All invaluable when running my own business.
Advice to your 15 year old self?
Don't worry so much, look into the wider world and don't wait to be asked, just do it.
www.bymi.co.uk
@bymiorigami on Instagram, Facebook & Twitter